U.S. EPA Camp Minden Story Map GIS, LA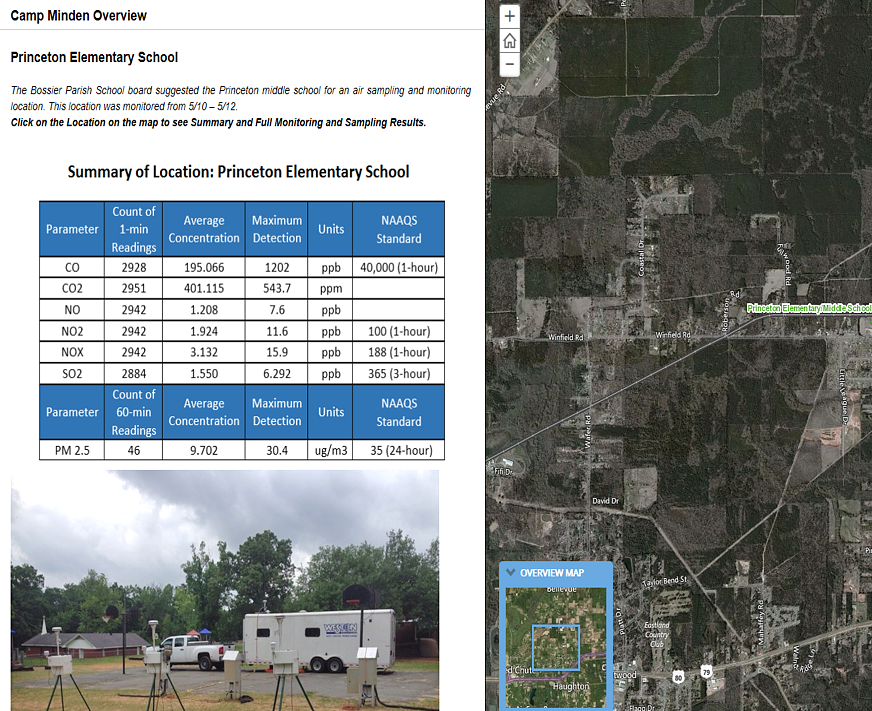 Weston created a Story Map GIS to tell the story of Camp Minden allowing the public view of sampling information including air and soil samples collected as part of the baseline air sampling effort.
Explo Systems, Inc. is a former explosives recycling company that leased an operations area and bunkers on the Camp Minden installation for approximately 7 years. Camp Minden is in the northwestern portion of the State of Louisiana in Webster and Bossier Parishes. On October 15, 2012, one of the Explo leased storage bunkers at Camp Minden exploded prompting investigations by the EPA, Louisiana Department of Environmental Quality (LDEQ), and the Louisiana State Police (LSP).
In response to the explosion, Weston designed, mobilized, and performed a multi-pollutant baseline ambient air sampling and monitoring program at Camp Minden. Two complete relocatable monitoring stations were deployed over a 3-week period to various sampling locations in the Camp and local communities. Monitoring established an air quality baseline for comparison of conditions during the planned destruction of 15 million pounds of M6 propellant stored at the Camp. Air monitoring included continuous low-level ambient air gas analyzers and air samplers. An interactive website was created for the community that provides site history, equipment photographs, and an interactive map with sample locations and analytical results. In addition, we provided technical assistance to the EPA for monthly Community Advisory Group meetings and conducted technical workshops. The ESRI Story Map GIS allows the story of Camp Minden to be told with integrated, dynamic air monitoring data.
The site is currently publicly accessible and available:
Camp Minden Interactive Website