Michigan Department of Environmental Quality (MDEQ) Abandoned Mining Wastes Torch Lake Non-Superfund Site GIS Viewer, MI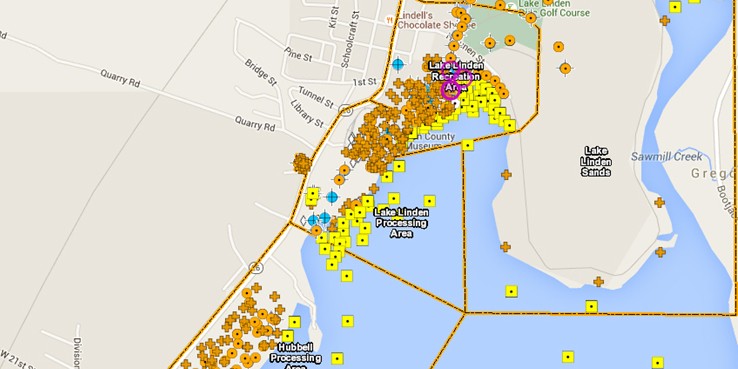 Weston created a web-based GIS Mapping Viewer with integrated data query capabilities to aggregate all historical observational data documenting the location of specific wastes with all current and historical sampling and analytical data.
Weston assessed and evaluated environmental risks as part of the Site Investigation (SI) phase of this project for Michigan Department of Environmental Quality (MDEQ). The Torch Lake Non-Superfund Site is characterized by risks posed by chemical containers and residues historically discarded in or near Torch Lake in Houghton County, Michigan. The risks posed to environmental media, sediment in particular, by the aforementioned waste deposits and continuing sources of contamination contribute to the limited recovery of the Torch Lake ecosystem. The principal goal of the project has been to support a comprehensive management system that will guide MDEQ's decision-making process in addressing human health and environmental risks present at the site.
The GIS Viewer is linked to the MDEQ website for public access. The system combines the following elements into an easy-to-use intuitive interface for project stakeholders:
Basic GIS Viewer capabilities – ArcGIS JavaScript web Viewer provides access to all relevant base layers and environmental data layers pertinent to the project scope.
Advanced data query tool – integrated data query tool with advanced query and reporting capabilities. This tool has a direct link to the project analytical database for current reporting. Site data are available through either a spatial selection tool or a dropdown box-driven query builder to create map-based reports or tabular reports with multiple output formats available. The user can also query analytical data against multiple screening levels for proper analysis.
Historical data integration – historical waste location data as well as sampling and analytical data were also included in the spatially enabled Geotech Enviro Data® database.
Other features – custom print option allows users to print formal maps of data views and query results. Custom bookmarks were added and allow users to zoom to areas of concern as related to the project.