EPA COP Common Operational Picture GIS Web Project, Nationwide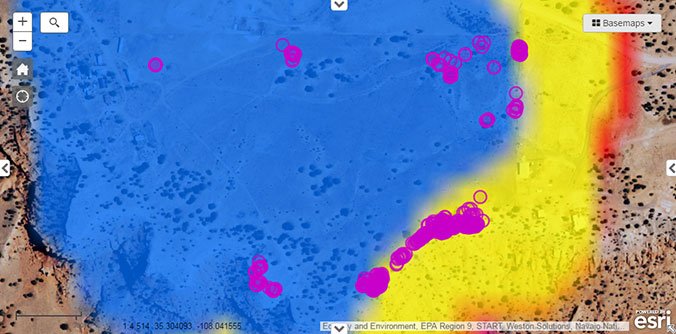 Weston has worked closely with the EPA National Data Acquisition and Technical Assistance (DATA) Team to further its mission to provide innovation in geographic information systems (GISs). Weston has also assisted in writing and providing training and documentation to both the EPA and contractor personnel across the country to implement GIS for emergency response.
An example of this innovation is the Common Operation Picture (COP) Template first implemented in 2013. This tool initially was implemented using the Environmental Systems Research Institute (ESRI) Flex application program interface (API), but now uses the ESRI JavaScript API that can be deployed quickly on any site that requires a common operation picture-based viewer.
The viewer is a robust interface that allows both operational and situational reporting as well as dynamic tool development for processing and disseminating data. The GIS infrastructure supports both public facing sites to facilitate EPA communication with the public as well as secure sites utilizing roll-based security to ensure data integrity. The template is designed to consume data services from EPA operational databases. The architecture was specifically designed to support mobile data collection and streamlined data acquisition, management, and dissemination processes. This template and associated standardized widgets have been quickly implemented on many sites, including some of the largest emergency response projects EPA has supported.
Weston has further pushed the level of innovation by leading a group of developers to build the architecture on a Federal Risk and Authorization Management Program (FEDRAMP)-approved cloud environment. The cloud architecture serves as a hosted environment utilized for responses and provides the EPA with a stable, flexible architecture to serve the agency's mission. The National Common Operational Picture (COP) geospatial viewer and cloud architecture have provided a nationally consistent reporting infrastructure that allows for flexibility and time-critical custom report tools to be built and deploy quickly during emergency and time-critical field operations.
These technical innovations also allow for integrated reporting between different EPA Regions when an emergency response crosses regional boundaries because there exists a national and regional consistency of base layers and symbology associated with reporting. It also provides decision makers with a COP irrespective of where the data are collected or by whom. The EPA COP Template Project was awarded the EPA's Mason Hewitt Award in 2013, an annual award given to EPA GIS technical excellence that is of national significance to the overall EPA mission.
"The EPA COP Template Project was awarded the EPA's Mason Hewitt Award in 2013 which is an annual award given to EPA GIS technical excellence that is of national significance to the overall EPA mission."