Plaza Saltillo TOD – Downtown Rail Yard Siting and Licensing, TX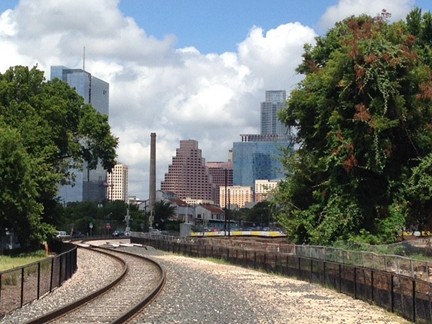 Weston prepared a Categorical Exclusion (CE) successfully ensuring redevelopment of the rail yard in downtown Austin, TX was compliant with all stakeholders.
A Capital Metro property in downtown Austin is in the process of redevelopment. The multi-agency coordination process to redevelop the property began around 2010. The property will be mixed use (residential with some affordable housing), commercial and retail as part of a Transit Oriented Development (TOD).
Weston prepared a CE for the proposed relocation of the rail tracks. The CE documented environmental conditions at the property, described the Proposed Action being considered, and identified and evaluated potential environmental impacts of the Proposed Action. The documentation was prepared according to the Federal Transit Administration (FTA) CE checklist and met the criteria specified in 23 Code of Federal Regulations §771.117. Our team coordinated with the FTA Region VI office to determine the appropriate approach for addressing the environmental justice portion of the CE.
Included in the CE was a Historic Resources Survey Report and an Archaeological Assessment prepared by our team sub consultant for submittal to the Texas Historical Commission (THC). Coordination with the THC and the Texas State Historic Preservation Officer (SHPO) was initiated to obtain concurrence from the agency that the proposed construction would have no significant impact to cultural, historic, or archaeological resources. This included an evaluation of National Register of Historic Places (NRHP) eligibility.
Methodology used to evaluate NRHP eligibility included delineation of the archaeological Area of Potential Effects (APE) and the historical properties' APE. The APE for the Archaeological Assessment included the approximate footprint of the proposed rail realignment. A request for SHPO concurrence that the proposed project would have no adverse effect on historic properties was submitted to the agency, and a concurrence from THC was received in September 2013.
Because the original archaeological assessment in 2013 only included the area of the rail relocation and not the residential and commercial development on the property, a new archaeological assessment was conducted and submitted to TCEQ by our sub consultant, and concurrence was achieved.