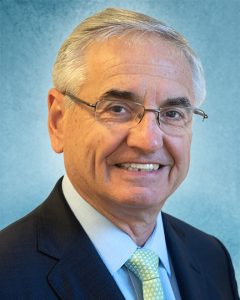 West Chester, PA (June 16, 2021) —Weston Solutions, Inc., a US-based 100% employee-owned environmental and infrastructure support services firm, announced the appointment of Lawrence (Larry) J. Bove, PE to President & Chief Executive Officer effective January 1, 2022. Currently Weston's Chief Operating Officer (COO), Mr. Bove will assume the role from Alan J. Solow, who announced his plans to retire as CEO and assume the role as Chairman of the Board effective January 1, 2022. With this succession of leadership, a 6-month transition period initiated as of today will allow Larry a smooth transition into this new role while also giving time to select his successor and allow for that transition.
Mr. Bove reflects the proud history that is Weston Solutions' foundation with over 38 of his 42 years' experience within Weston starting as staff engineer in wastewater engineering to progressively advancing roles including Project Manager, Client Account Manager, VP-Profit Center Manager, SVP-Division General Manager to Chief Operating Officer in 2014. Over the course of his career, Larry Bove has gained broad expertise in serving federal, state, and local government and industrial clients.
As COO, Mr. Bove successfully led Weston operations through a series of consolidations, including nationalizing the technical resources group and was integral in the overall financial turnaround of the company into the thriving effective and efficient organization of today.
Upon Alan Solow's announced retirement, Alan looked no further than his highly successful Chief Operating Officer to fill his shoes. Alan states: "I have had the opportunity to work side-by-side with Larry for many years and firmly believe he brings the knowledge, experience, and sense of integrity to lead the Company aligned with our Core Values. Weston has a bright future and Larry will take this company forward with a new vision of growth and prosperity for all of our employee owners."
Upon notification of selection, Mr. Bove commented on this opportunity to serve the Board of Directors and the employees of Weston, "I am honored to have been selected by our Board of Directors to lead Weston Solutions as President & Chief Executive Officer. Under Alan Solow's leadership, I am proud to have served as COO alongside Weston's top-notch senior management team to accomplish an operational turnaround that has positioned our company for continuous success. I will rely on Weston's mission, core values, and the passion of our employee-owners to serve our clients as guiding principles to defend our 60+ year legacy of environmental excellence and drive shareholder value into the future."
Weston Solutions is a mid-size, US-based 100% employee owned national environmental and infrastructure support services firm with annual Gross Sales approaching $500M committed to safety and client value driven to be our clients' most effective and efficient service provider. For 60+ years, we have solved our clients' project challenges with a passion to serve and drive to make a difference.