Preparation of Work Plans and Investigation Reports for Technical Area 21, NM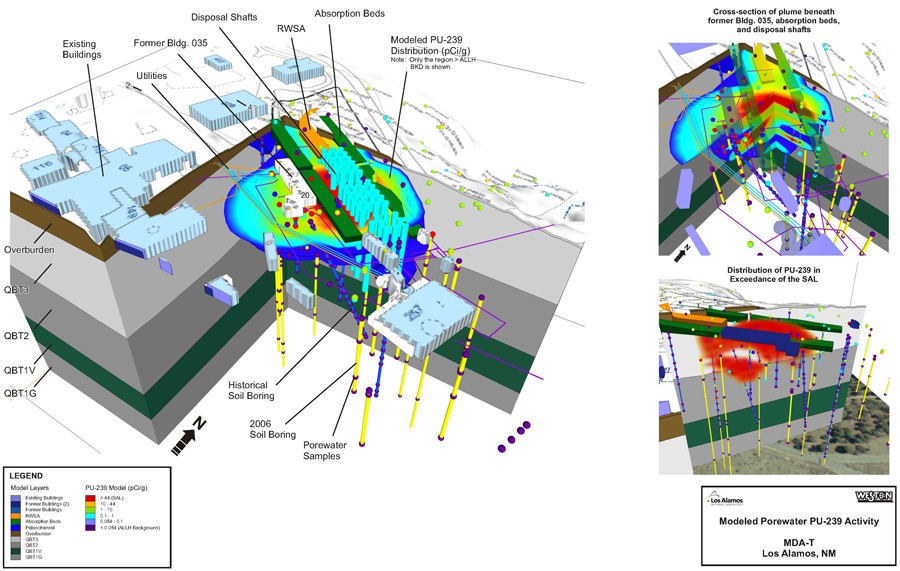 Weston performed exclusive EarthVision® modeling technology to address potential contamination to support a Consent Order with the New Mexico Environment Department (NMED).
Weston supported the Los Alamos National Laboratory (LANL) response to a Consent Order with the NMED to remove sites from the hazardous waste permit and from further investigations. Sites included nuclear research laboratories, nuclear reactors, chemical storage pits, waste discharge systems, outfalls, waste treatment plants, waste disposal areas, and munition sites.
To address this need, Weston prepared work plans and investigation reports, reviewed historical research, such as engineering drawings and databases, performed data analysis and interpretation, prepared PowerPoint presentations, and proposed site investigation/remediation activities.
The Weston team provided EarthVision® modeling expertise to define the nature and extent of potential contamination in the subsurface. A geologic model data file was created depicting geologic characterization and chemical contaminant modeling in a three dimensional view. Analytical data were updated to determine if the plume progression of contaminants model was a good fit or needed improvement.
Our personnel participated in regular meetings with NMED regulator and were credited with improved relationships with the regulator by addressing regulatory compliance concerns in an aligned fashion. Weston's ability to consolidate large amounts of data into a concise and clear format was key to receiving very few comments on the technical work from the regulators.