Riverbank Army Ammunition Plant PCB Cleanup, CA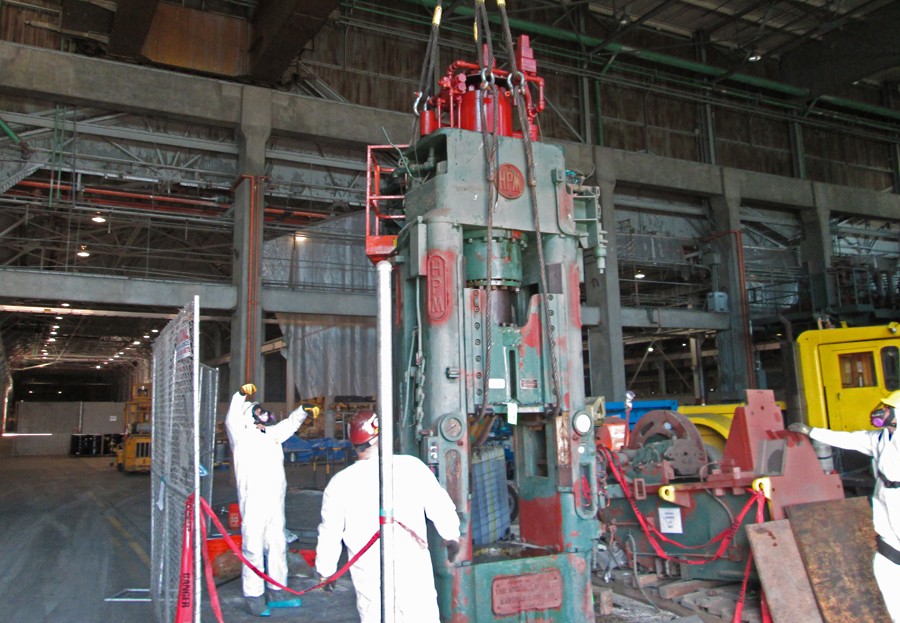 Weston is the environmental consultant and contractor for PCBs characterization and remediation of process equipment and real property, including interior surfaces, exterior siding and roofing, and soils at a former Army ammunition plant in Riverbank, California.
The Riverbank Redevelopment Authority (RLRA) selected Weston as its remediation consultant and contractor to support negotiations of scope and budget to obtain grant funding from Army Base Realignment and Closure (BRAC) and to perform environmental cleanup to achieve regulatory site closure under TSCA and CERCLA requirements. A 120-acre former ammunition production facility needed to transform into a thriving industrial park to bring sustainable economic development to the community. The large production buildings on-site were constructed of Galbestos siding and roofing, which contain high levels of PCBs that were also detected in concrete, paint, equipment, and dust throughout the 500,000 square foot complex.
To facilitate transfer of ownership to the RLRA, Weston identified an approach for the environmental cleanup work in parallel with a CERCLA early transfer process to provide the RLRA with a large amount of leasable space much sooner than originally thought possible. Weston supported negotiations with Army BRAC and EPA to obtain funding and a TSCA risk-based remediation approval for the first phase involving the disassembly, demolition, and off-site disposal of over 6,500 tons of PCB-contaminated equipment. The scheduling and execution were coordinated with existing industrial tenants to both maintain safety and avoid business interruption. Based on successful completion of the first phase of work, Weston negotiated a second phase, risk-based TSCA cleanup approval from EPA and developed scope and budget for the RLRA to complete cleanup of the production building interior, requiring removal and disposal of over 750,000 square feet of Galbestos material and the continued need to minimize impacts for existing tenants. Remediation of soil contamination outside of the buildings, stormwater piping, and retention buildings will also be performed under the Phase 2 cleanup to fully restore the property under CERCLA.
"Having Weston as part of our collaborative team has proved to be a positive and decisive factor throughout the reuse planning and implementation process, and I can say without hesitation that Weston has been integral to the success of our reuse project as a whole. Working with the entire Weston Team has been a wonderful and encouraging experience. They have provided invaluable insight and guidance in all stages of the process."