Performance-Based Contract to Complete Closure of Former Landfill at Fort Indiantown Gap, PA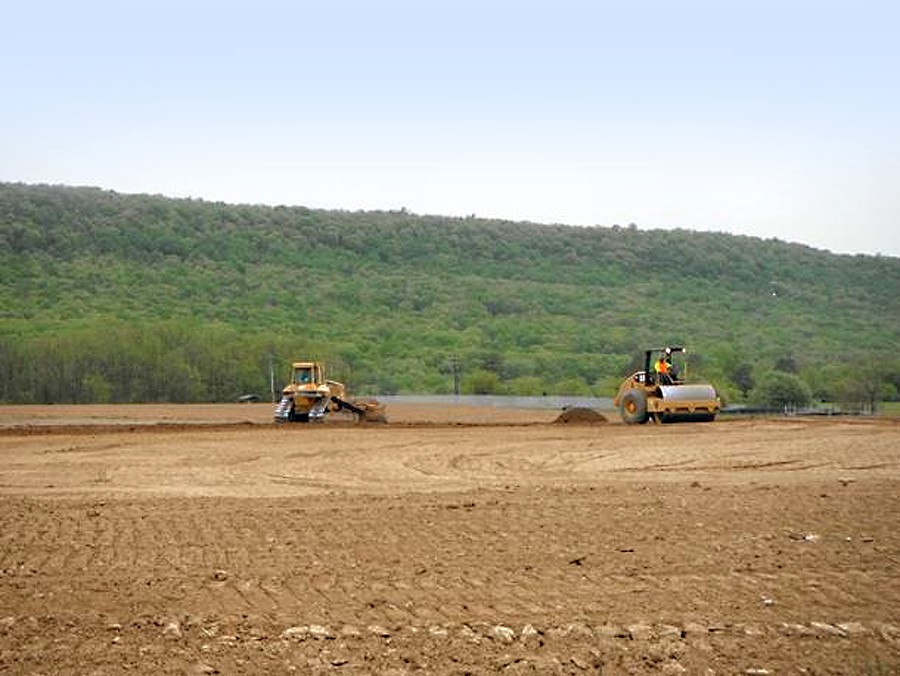 Weston conducts remediation of 45-acre landfill parcel that helps sustain mission readiness at one of the nation's premier military training centers.
The Former Landfill at Fort Indiantown Gap (FTIG) was operated to dispose the facility's municipal wastes from the 1940s to 1982 when it was closed because it did not meet the requirements of the Pennsylvania Department of Environmental Protection (PADEP) Solid Waste Management Act 97. The Pennsylvania Army National Guard (PAARNG) attempted for decades to achieve formal closure of the site; however, because of facility budget constraints and other mission priorities, no final closure certification was obtained. In 2011, PADEP directed PAARNG to close and maintain the landfill parcel in accordance with current Title 25 PA Code Municipal Waste Regulations. In addition to achieving PADEP closure certification, PAARNG required PADEP approval of a closure design plan to utilize the land parcel for passive training activities in support of FTIG's constantly expanding training missions.
In 2012, the National Guard Bureau/PAARNG selected Weston to execute a complex, multiphase, performance-based contract that followed the CERCLA process to satisfy PADEP's closure requirements. The 5-year contract scope for the 45-acre landfill included a Remedial Investigation (RI) to characterize the site and delineate the extent of landfill wastes, a Feasibility Study, Proposed Plan, and Record of Decision to formally evaluate and select a landfill closure remedy. Also in the contract were Remedial Design plans and specifications and implementation of the Remedial Action to construct a new 24-inch thick soil cover system over the landfill. Weston facilitated stakeholder planning meetings to establish closure design criteria and identify potential future training uses for the site. We implemented a cost-effective, sustainable design to close the site through maximized use of existing on-site cover soils and use of existing wetlands to support long-term stormwater management.
Historical aerial imagery and geophysical data were evaluated with light detection and ranging data to determine the lateral extents and depths of former waste filling activities. Detailed topographic surveys were prepared and 300 test pits and microborings were installed to verify lateral extents of wastes and thicknesses of existing cover soils. On-site wetlands were delineated to ensure impacts by future remedial actions were avoided. Key remedial design elements included salvage and reuse of on-site topsoil and relocation of cover soils from portions of the landfill that had thicknesses in excess of 24 inches to other areas to minimize imported fill, excavation, and on-site consolidation of wastes from the edge of a small stream adjacent to the landfill, clearing and mulching deep-rooted trees, regrading the site to eliminate low areas and improve positive drainage, and temporary use of on-site wetlands for stormwater management during construction. Despite maximized use of on-site cover soils and clean borrow stockpiles provided by PAARNG, over 60,000 cubic yards (cys) of off-site fill materials were imported to complete site grading, soil cover system construction, and site restoration.
Weston successfully negotiated with PADEP to obtain approval for reuse of on-site fill sources and on-site relocation of wastes, thereby reducing the amount of imported fill by approximately 10,000 CY and avoiding costs for transportation and off-site disposal of wastes. This sustainability-focus approach saved the client approximately $250,000. Weston completed over 13,600 field work hours without a lost time or recordable incident and achieved all major performance-based milestones and objectives on or ahead of schedule, including completion of the RI report 10 months ahead of its planned milestone and remedial action completion approximately 2 months ahead of schedule. Timely execution of the project has enabled FTIG to move forward with planning post-closure uses of the site for passive training activities, such as physical fitness trails and drop zones.