Intensive Vegetative GreenGrid
®

Green Roof System, MA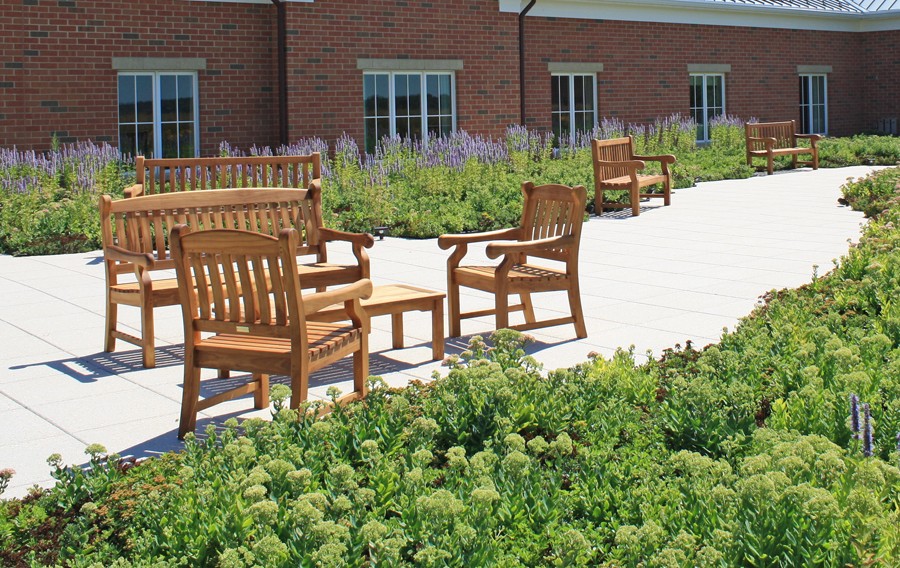 Weston contributed to improved patient outcomes and a space of rest and rejuvenation for staff and patients at Martha's Vineyard Hospital by designing and executing the installation of a GreenGrid green roof system with multiple environmental benefits.
Weston was contracted to help transform the building roof at Martha's Vineyard Hospital into a terrace amenity space accessible to employees, patients, and visitors of the healthcare facility. Weston furnished a custom-designed, pre-grown 13,500 square foot intensive GreenGrid green roof. Weston developed a creative delivery schedule and managed complex logistics associated with delivering over 20,000 plants in over ten truckloads of planted modules through marine ferries during the summer tourist season without incurring construction delays or product damage.
The modular nature of the pre-grown GreenGrid green roof system and shipping method—on hoist-able nursery racks—allowed the roofing contractor to phase installation and maintain a consistent daily production rate throughout the 2-week installation.
When complete, the resulting vegetative solution created a serene, therapeutic space for reflection and recovery, while providing important functional benefits, such as stormwater runoff management in this sensitive coastal environment, improved energy efficiency, and contribution towards Leadership in Energy and Environmental Design certification. The low-maintenance plantings were also an important consideration to minimize the level of effort required by on-site staff to maintain the system in top condition.
Learn more at www.greengridroofs.com