Yorktown Repairs and Craney Island Tank Inspections, DFSP Yorktown and DFSP Craney Island, VA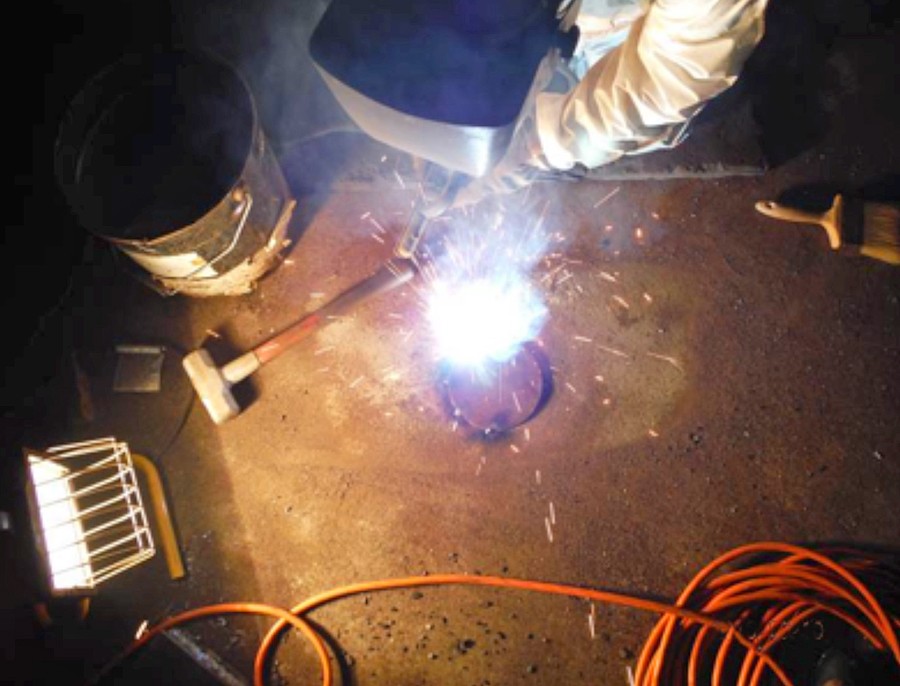 Weston completed a $3.8M firm fixed price (FFP) clean, inspect, and repair (CIR) project at two separate installationsin VA located 50 miles apart under one task order (TO).
Weston completed a $3.8M FFP CIR project at two separate installations located 50 miles apart under one TO in VA.To maintain mission readiness and facility compliance at the U.S. Navy's largest fuel terminal, Weston lead the design-build construction CIR project comprising internal tank cleanings, floor evaluations, repairs, and associated design work at four bunkered (cut-and-cover) storage tanks at Defense Fuels Supply Point (DFSP) Yorktown and API 653 in-service inspections of two aboveground storage tanks (ASTs) at DFSP Craney Island. Each of the four bunkered tanks (JP-5) had a storage capacity of 150,000 barrels (bbls), diameter of 150 feet, and height of 50 feet. The two ASTs (JP-8) had a storage capacity of 47,000 bbls, diameter of 122 feet, and height of 23 feet.
Weston self-performed major work elements, including all project and site management, design engineering, health and safety, QC, and civil, mechanical, and coating oversight. By using a military-specified coating as directed by UFGS, Weston was able to save the government $20K by waiving duplicative batch testing. Weston was rated outstanding by the government on quality of workmanship and coordination and control of subcontractors. Weston engineers considered best practice methods to develop repair recommendations and designs on the underground bunker tank that was not constructed to meet a general standard or guidance criteria. The prevailing client-focused approach is evinced in our work through the quality and flexibility our clients have come to rely on. For example, when Weston learned mid-way through the project that project goals had shifted because the Yorktown Tank Farm would be closing in several years, Weston reevaluated repair recommendations to support reduced service life. Weston initiated several cost savings to overcome unforeseen and unique site conditions, including sequencing work to minimize costs during scope adjustments that required government approval.We were able to resolve field delays, contract delays, and winter impacts by increasing our equipment needs and working weekends and holidays to meet deadlines. To meet schedule requirements, Weston worked simultaneously on multiple activities and subcontracted work;we oversaw each work element and ensured the correct, licensed tradesmen were validated.
"The contractor's project manager and site manager were very knowledgeable and cooperative to meet the government needs on a challenging project. The inspection of each tank identified new and unique engineering issues and recommended repairs that required government review, additional funding, and changes to the scope of work. The government benefited from the contractor's cooperation to recommend specialized solutions for the unforeseen and unique conditions, minimize costs while waiting government direction, and pursue cost-effective execution. Contractor presented RFIs with opportunities to reduce overall cost. Weston met the challenge of replacing valves during limited opportunities on holiday weekends to minimize impact on facilities operations. Halfway through the project, the project goals changed when it was determined that Yorktown tank farm would be closed in several years. Contractor supported the government to reevaluate repair recommendations and adjust the current scope to support the new reduced service-life vice the original scope. When one tank coating failed after application, Weston took immediate responsibility and steps to replace the coating."
Bill Hepler, Contacting Officer, Final Modified CCASS, 03/25/2014