Weston has a longstanding, over 20-year, history of partnering with response agencies and business partners like Environmental Systems Research Institute (Esri) to develop innovative technology in support of the largest Emergency Response needs in the history of our federal government.  In fact, in the past 9 months, Weston has responded to Hurricane Harvey, Irma, Maria, the 2017 Northern California Wildfires, and most recently, the Kilauea Volcano Response in Hawaii.
Through our partnerships with the United States Environmental Protection Agency (USEPA) as their prime Superfund Technical Assessment & Response Team (START) Contractor, Weston has developed data management and visualization strategies using EPA standards and software tools integrated with cloud architecture that combine relational database management systems, web-based query tools, and GIS capabilities in a secure environment. This unique system allows for maximum flexibility, acting as a connector to existing tools for data capture and dissemination.
Weston was tasked with supporting EPA and other federal, state, and local stakeholders associated with Emergency Support Function 10 at impacted areas on the Island of Hawaii in the approximately 40 various response locations. Weston was first able to quickly deploy mobile data collection hardware and software to support the operations using ArcGIS Collector and Survey 123, and these data were synchronized to a cloud environment data warehouse. Weston also deployed Esri-based Geospatial Viewers to support operations that allowed the Unified Command to see the common operational picture during tactics and planning meetings. In addition to a Geospatial Operational Viewer, Weston deployed interactive web-based story map applications that provided the daily Situation Report (SITREP) and was used by Unified Command and the Police Intelligence Operations (PIO) to brief both senior management and the public on the current situation.
Weston worked closely with EPA ERT personnel to deploy the VIPER telemetry-enabled monitoring system in support of the Incident Command objective to monitor for air quality during the ongoing volcanic activity of the Kilauea Response. The Geospatial Operational Viewer encompassed data layers from FEMA, United States Geological Survey (USGS), and EPA, and provided a single common operational picture of all the work being completed by Unified Command. Weston, with ERT, implemented a custom Geo-JSON process to bring real-time monitoring data from multiple agencies into a single portal without the need for data replication and/or storage of this massive volume of data associated with the Kilauea Volcano events. The new, innovative approach provides the capability to map and report near real time data, reflecting the same exact data being reporting through VIPER Deployment Manager, an EPA-developed software that transmits data to the cloud-based architecture.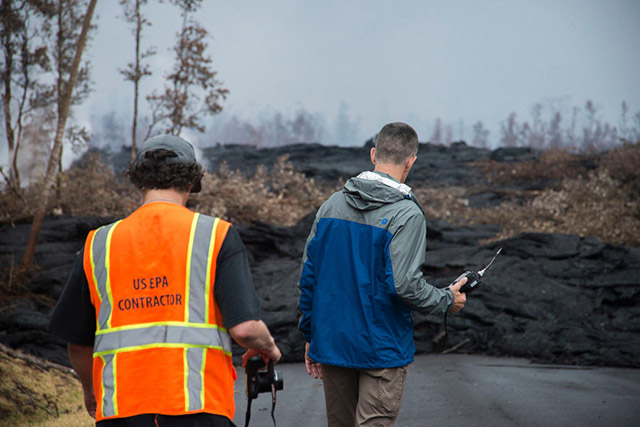 Monitoring was conducted in 37 unique locations continuously for over a month, with the data reported via the viewer to provide stakeholders with air quality information and potential health impacts. To date, over 200 million records have been pushed to VIPER.NET. Weston also provided support in customizing the Legend in the Viewer so that hyperlinks direct the user to Health Effects and Public Response information instead of displaying the full information under the Legend. The hyperlinks feature resulted in a more concise Legend, while still enabling the user to access the information. Additionally, Weston implemented a solution to provide the latest air monitoring reading in Hawaii Standard Time, and users could specify a refresh rate through the viewer tool to automatically refresh the readings at the station location. Weston provided custom reporting and charting popups to help deliver the overall message of air quality and the potential impact to human health.
Weston's approach is innovative in a number of ways. We managed to create efficiencies around the process of moving extremely large quantities of data. Also, exploring the use of Geo-JSON real-time data services such as with Viper has expanded the uses of other time critical response data to be made available by other responding agencies to enhance their own Response Common Operational Geospatial Viewers. These enhanced uses of dynamic data layers allow Weston to provide our responders, EPA, and other designated stakeholders valuable information during times of response and planning.