West Chester, PA (October 24, 2023)—Weston Solutions, Inc. (Weston) wins Navajo Nation Pilot Potable Water Delivery Program (PWDP) for the Navajo Engineering and Construction Authority (NECA).
Weston is building on its work for NECA, the Indian Health Service (IHS), and Navajo Nation Division of Community Development (NN DCD) since 2020 to help Navajo residents without connections to public water supplies gain access to safe, clean water. Weston will help expand existing services and help the Navajo Nation develop consistent water hauling practices to ensure that the water delivered to homes is safe.
Weston understands that communities and businesses must be empowered. As part of our program vision, we are committed to creating and sustaining opportunities. This means working with Navajo workforce development programs, small businesses, agencies, and community members to build capacity and training so that they can be self-sufficient in the long term and develop future leaders.
Weston has teamed with Dinetahdoo Cultural Resource Management (DCRM), which is a Navajo- and woman-owned small business, and with Navajo-led nonprofits DigDeep and Collective Medicine. Weston will develop water and delivery equipment testing processes, and train DCRM and DigDeep to maintain certifications and document results. Weston will also build data management, delivery routing, vehicle tracking, and GIS-based dashboard and reporting systems to help agencies and the public manage and understand the benefits of the PWDP program. As a team, we will engage with community members and local small businesses to develop required skills and create opportunities for participation in the PWDP.
Program Manager, Wilson Yee, states "We are honored to be selected to be an integral part of this critical community-based initiative. Our entire team is united in ensuring that every Navajo resident has access to clean, safe water."
Weston continues to support IHS and their efforts to achieve the Strategic Mission Goal of providing the Navajo Nation people who are living in homes not connected to water infrastructure with access to culturally appropriate environmental public health services. Further, in support of NN DCD's mission of providing opportunities for Navajo communities to be self-governing and self-sufficient, Weston will train, develop and empower community members who best understand their local needs to close the water access gap.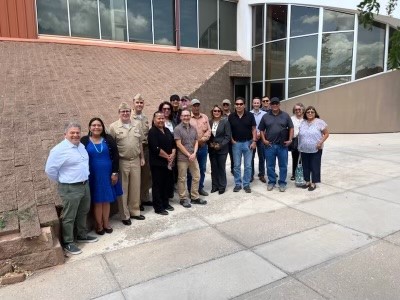 About Weston Solutions
Weston Solutions is a U.S.-based, 100% employee-owned environmental and infrastructure services firm committed to safety and client value, driven to be our clients' most effective and efficient service provider. For over 65 years, we have solved our clients' challenges with a passion to serve and a drive to make a difference.