The idea of "where" being equally as important as "what" and "how" has become mainstream these days. In one example that demonstrates the importance of location, Weston applied geospatial technologies (mapping tools that collect and process location-based data) to notify a major logistics client of impending weather conditions that may threaten its supplier operations, enabling that client to adjust future plans accordingly. The competitive advantage gained from predictive models can be thought of as "geospatial intelligence," which empowers our clients with "understanding, insight, [and] decision-making" (Esri). Through geospatial intelligence, we can determine things like locations and mobilization periods of personnel and equipment in the event of a natural disaster. Weston can help companies gain this competitive advantage in three straightforward steps.
Step 1: Select the right tools
Powerful software tools can offer insight into the spatial patterns and trends of a map. Esri ArcGIS Suite, Microsoft Power BI, Google Data Studio, Tableau, and Qlik Sense all provide us with solutions to visualize location with added emphasis on data analytics. Weston leads companies to select the data program that best suits their individual operations and their data visualization and reporting needs.
Step 2: Ask the right questions
Once we equip our clients with the right tool(s), we suggest they ask themselves questions that matter most to their business, such as:
"What is our value proposition?"
"What impacts our ability to deliver that value?"
"What does the footprint of our operations look like?"
These questions guide geospatial analysis and map visualization, which ultimately refine companies' understanding of their operations. While questions may vary by company, market, or business model, they should be focused on the goals necessary to achieve operational excellence.
Step 3: Identify and aggregate the right data
Types of data that improve operational excellence include the locations of our clients' extended supply chain (manufacturing, distribution, and transportation), customer relations and demographics, environmental compliance, and health and safety, among others. The sources of data can be internal (e.g., corporate databases) or publicly available. The number of public data sources is growing rapidly and changing how we at Weston are performing geospatial analysis. We consolidate all available, relevant internal and public data to support companies' discovery of the many insights that geospatial intelligence has to offer.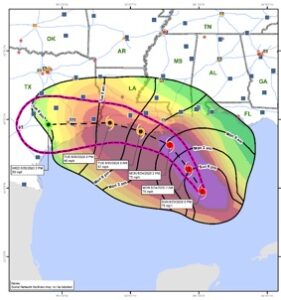 Weston created a map visualization of Hurricane Marco to help one of our biggest clients prepare for potential disruptions to its supply chain.
The Benefits of Being Curious
In following these steps, Weston hopes to encourage a healthy curiosity toward day-to-day business operations that have a long-term, positive impact on our clients' needs. One might ask, "How is weather affecting our suppliers; what are our suppliers' labor conditions and management practices; and what environmentally sensitive areas surround our manufacturing locations?" We assist our clients with assembling a focused list of questions that align with their operational goals. Encouragingly, opportunities for exploration are near-limitless.
If you'd like to support our efforts to reframe traditional business challenges as emerging challenges of location, Weston has a multitude of open positions. Apply to join our national team of employee-owners today!